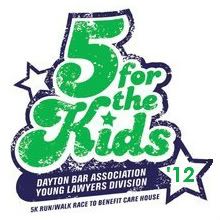 What a week. I need the weekend here and I need it here yesterday. Sorry for the late-ish post but yesterday was absolutely crazy. I hope that my Bitter Lawyer post held you over until today. A couple of quick notes for your calendar. On Friday May 18, the Dayton Bar Associaiton Young Lawyer Division will be holding another Get Behind The Bar at Brixx Ice House. This is a great event that provides support to Care House (read more about Care House here). This Get Behind the Bar event will feature College Rivalries. The event starts at 7:30 with Miami University going against Cincinnati University. Yours truly will be in attendance support my Bobcats against the Redhawks later in the evening.
DBA YLD also helps run "5 For The Kids." This is a 5k/Fitness Walk held in Downtown Dayton on May 25, 2012. There is still time to sign up and get your fitness on. Once again all proceeds go to Care House. I am hoping to be at the 5k but I am not sure yet. If anything I hope to get the free t-shirt for my collection.
On to the news… from time to time I do some divorce work as part of my practice. I often have a variety of clients who I have to advise on difficult issues regarding their now deteriorating relationship. While I would never advise this:

it is awesome. A Superior, Wisconsin woman presented this traffic-stopping gesture at the expense of her ex-husband. They say cheater's never prosper but they don't say anything about old ladies cruising for garage sales. This "X-Husband Sale" was accompanied with "Free" signs on everything. Not to mention the spray-painted car. Just  the cherry on the top of a hate filled sundae.
P.S. If you are reading this and you are a client of mine: DO NOT DO THIS!
Sometimes you don't even have to be married for their to be anger in the relationship. Take Paige Parkerson for example. Parkerson has been charged with murder after stabbing her two children's father, Clifton "JR" Barkin, because he bought her flowers and a Mother's Day card from Wal-mart. Parkerson expected a more expensive gift, such as jewelry.
Enough is enough Hallmark. See what you have done. Making up fake holidays for people to expect gifts 24/7/365. You know what is even crazier… it's MOTHER'S DAY not MOTHER OF MY CHILDREN DAY! Paige isn't JR's mama. He doesn't have to give you anything. Why don't you put down the knife and be passive aggressive to your two children about the lack of macaroni necklaces? They are the one's who are to give you gifts. Wally World and Hallmark, ruining families since 1910.
P.S. Totally unrelated but completely related… Have you seen these Wal-mart steak commercials? Where they switch steakhouse steaks for Wal-mart steak.  Completely outrageous. If I go to a steakhouse and drop a couple Benjamins on my meal and you switch out that USDA Prime Choice Dry Aged Old 96'er I will go Paige Parkerson on you.